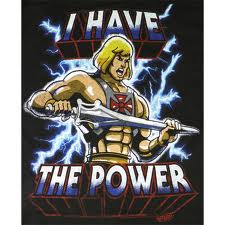 As a child, I was a big a fan of He-Man and She-Ra. Hey, don't try to guess my age guys… You know better than that!
My grandmother would prepare chocolate milk (more chocolate than milk of course!), a whole bunch of cookies and my sister and I would watch the show together. Of course, I was She-Ra and my sister was Skeletor. I swear to you she was THAT skinny and mean!
He-Man and She-Ra remind me a lot about the present issue of Priesthood ordination and women, power, authority as well as gender equality.
If you have no idea who is He-Man it means you are probably very young so let me quickly summarize.
He-Man is this tanned guy with big muscles, super blond hair and bangs (I know, don't ask) whose job is to defend the realm of Eternia and the secrets of Castle Grayskull from the evil forces of Skeletor. He is the alter ego of Prince Adam who looks exactly like He-Man but of course nobody seems to be smart enough to notice it. He possesses superhuman strength and has a special sword called the "Sword of Power" and it's indestructible!
She-Ra (his twin sister) is known for her amazing strength and other abilities which seem to be more in the nurturing side.
When Prince Adam decides to transform into He-Man, he takes his special sword called again the "Sword of Power" and says these words:
"By the Power of Grayskull, I HAVE THE POWER!" And there he goes; ready to defend the universe from the evil forces that are attempting to destroy it. Are you following me folks?
As I mentioned previously, Prince Adam (a.k.a He-Man) has a twin sister named Princess Adora. Like her brother, she also has a sword"¦but guess what? It's not the Sword of Power, it's the Sword of "Protection" and it's not indestructible. When Princess Adora wishes to transform into She-Ra she says the following:
"By the Power of Grayskull, I AM SHE-RA!"
WHAT? Let's rewind"¦
"By the Power of Grayskull, I AM SHE-RA!" Why she says I AM SHERA and not "I have the Power" like her brother does?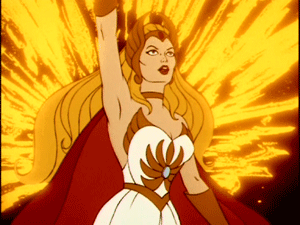 Well, some She-Ras in our present time wish for both the
power
and the
authority
to help and protect the citizens of Eternia just like He-Men do every day but in order to accomplish that, they need the "Sword of Power".
Our modern day She-Ras possess amazing strength, knowledge and wisdom, they come from many backgrounds and one thing is for sure"¦Despite the misconceptions flowing around, they do not wish to be more powerful than He-Men, it is not their evil wish to possess the Sword so they can go around and start chopping people. Heck, they do not wish to be He-Men, period!
They just want to remain She-Ras but with the "Sword of Power", ready to battle the evil forces hand by hand with He-Men so that everyone in Eternia can benefit.. And when She-Ra's little daughters see them battling the evil forces, healing and blessing the citizens of Eternia they can know that women can have Swords of Power too and it won't stop them from changing diapers…