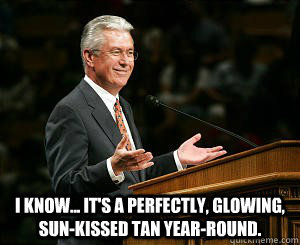 If we were in Hollywood and I have to think of one person that could play the role of George Clooney very well due to his amazing hair, perfectly straight teeth and sense of style (did you guys see the ties and suits he chooses for Conference? The man has ridiculously good taste). It's definitely our very own: President Dieter F. Uchtdorf.
Besides being seriously good looking and a pilot (which adds to his coolness factor if you ask me and takes us away from the usual and boring businessman or lawyer) he always spots a lovely, all year-round tan. I don't know if it's spray-on tanning lotion or he owes a tanning booth (because unless he goes to Hawaii or the Caribbean every other weekend I just can't see how he can get such a lovely tan all year long). Whatever he does, he knows what he is doing.
He is 73 years old. My goodness! Yes 73! And he surely doesn't look like he does. I wonder how many of you brothers out there reading this would like to reach your 70's looking so amazing? I am almost convinced most of you are saying "YES Cheeky Mormon! Of course! So I won't have to keep hearing my wife say how wonderful and amazing Elder Uchtdorf is".. Well, what are you waiting for?!
You can start by working out every morning (forget the eggs and bacon for a while) so you can reduce that little (or not so little?) belly you might have (I know the "more to love" concept gentlemen, but if you want to be like him then you have to keep the doughnuts away), exercise of course (nope, walking towards the refrigerator or pressing the remote control doesn't count as exercise), get a tanning bed (a MUST in order to reach the look!) and you will have to stop dyeing your hair and let those beautiful greys of yours show! (Unless of course, you are President Monson, but he is the Prophet so we can't tell him anything).
Okay, so Elder Uchtdorf didn't serve a mission (due to mission war restrictions), he attended college but didn't graduate (but graduated from pilot school, same thing right?) At the age of 13, he met his lovely wife Harriet and it was love at first sight for him. He said he fell for her from the very beginning but it wasn't the same for Sister Uchtdorf, who only started considering him as 'the one" after he served his military duties and returned to Germany. Of course, we understand, you want a strong, committed man in the Gospel plus"¦.He didn't have the lovely grey hair back then!
On top of all these amazing things already listed, he gives the most spiritual, uplifting and inspiring talks in General Conference with a German accent! He is probably one of the few Germans who can speak English and not sound like he is cursing you.