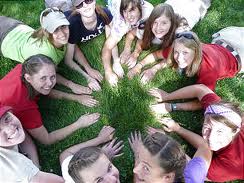 I was reading an excellent blog post on
My Uncommon Dissent
about leadership training of young men versus leadership training of young women and it reminded me of a devotional I attended when I was around 18.
The Priesthood holder started his talk by praising all the female young single adults by stating how wonderful and beautiful they are, how pleased were the Brethren because of their faithfulness and how happy he was for the progress they were making. Then he changed his voice drastically, as he started literally to rebuke the young men present until the very end of his talk, and said something that I remember perfectly: "Sisters are more Spiritual".
I noticed within Mormonism, there is this belief that women are inherently more spiritual than men. The LDS feminist inside me wants to accept that statement and run away with it but the Cheeky Mormon tells me no (I know, it's a power struggle).
Back in the 19th century, Brigham Young stated that women are less accountable for sin and therefore they will be easily saved. Why? Because in a few words women are too "goodie-goodie" to sin. Is there any doctrinal basis for such perception? How do we measure spirituality in the first place? Is it this concept fair to our brethren?
Some people would argue "More women than men attend Church every Sunday". Depending on your location, that might well be true however: Does it make them more Spiritual? Like one of my favorite quotes says "Going to church doesn't make you a Christian, anymore than standing in a garage makes you a car".
The rhetoric that women are inherently more teachable, humble, and spiritualthan men seem to have two sides. One, the perception that makes men look spiritually handicapped and second, an indirect and possibly unintentional attempt to patronize sisters.
When All Enlisted created the idea of Wear to Pants to Church day and the petition about women praying in Conference, it started the eternal debate about the gender roles. Most uber-conservative Mormons stated that what this "feminist" group really want is for women to hold the Priesthood. From there, a whole new debate erupted and it is usually only a matter of time until someone says "Women do not hold the Priesthood because they don't need it, men do".
This type of rethoric, is one of the reasons we do not feel that our young women and their adult leaders need proper leadership training, after all they are already spiritual, humble, and natural leaders and we end up somehow abandoning them spiritually because we assume they don't need it. Nothing could be further from the truth.
Our Young Women and adult leaders are in desperately need of help, support and validation. They NEED to be trained so they can be prepared for the future, and regardless of whether or not they will get married one day and have two or three million babies, or they will face divorce or unemployment, leadership skills are life- saving tools that they can use in ALL aspects of their lives, no matter their circumstances. Depriving them of such is trying to look at their present and future with rose tinted glasses.
The day we understand (not by theory but by practice) that our Young Women's Progress is as important as our Young Men's Progress, we would be able to accomplish great things with both groups without disregarding anyone, we would be celebrating our Young Women's accomplishments in Church properly (instead of handling them a certificate or cold medallion for a few seconds in sacrament meeting). We would start applying and showing the same exact organization, celebration, fervor, and excitement we seem to express with our Young Men and Eagle Scouts.