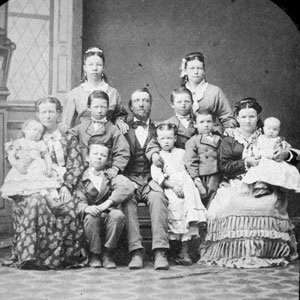 Have you ever seen the TV series "Little House on the Prairie" with the incredibly talented Michael Landon? Well, when most members think about early polygamy in the LDS Church, they think about perfect families like the Ingalls. The husband (Charles) was always in a great mood despite the fact that he worked long hours in the hot sun or sometimes forced to hold two jobs at the same time and even yet, he was always smiling and had a cheerful disposition.As a father, he was perfect and no matter what situation or circumstance, he was always willing to teach his girls unforgettable lessons and was never afraid to show affection.
Then you have the wife (Caroline Ingalls) who was what we would call in LDS lingo, a typical Molly Mormon. She never burned the food because she was an amazing cook, never ever shouted at the children despite the fact that sometimes they did wrong things such as cheating, disobeying, or lying and never, ever complained about how many dishes she had to wash, or how many breads she had to bake or how many chickens she had to butcher or the fact that she never had money to shop for things she liked in the local mercantile owned by Mr and Mrs. Oleson.
So when you think about Brigham Young and his 50 something wives you gotta wonder: How the heck did he do it? I mean, seriously. If I was a man, I couldn't imagine being married to so many women. Why? Because pioneer women or not, we are sometimes a pain in the a**. My grandmother used to say that 10 men can live peacefully in one room but two women cannot live peacefully in a mansion. Add ONE husband to the mix and is the perfect setting for a novel, Hollywood movie or a reality TV series.
Young had a very hard time accepting Polygamy, he said it was the first time in his life that he desired the grave and he would feel envy for corpses at funerals and regret that he was not the one in the coffin! He had some wonderful wives who loved him and cared for him but perhaps you wonder. Is it possible for a husband to provide economically, physically, sexually, emotionally and equally to 50 something wives? The thing is, not every single wife lived with Young and a lot of these relationships were non-conjugal.
A little over a quarter of those women also had children with him and because of his many Church responsibilities, and his travels, he was often times an absent husband and father. I am not stating this as a criticism, but as historical fact and as much as I can empathize with his desire to fulfill God's commandments, I have to also empathize with his wives and children whom desired to spend more time with him but were unable to do so.
One of these wives was Augusta Adams who wrote to Young hundreds of letters and in a good portion of them, expressing how lonely she felt. Ann Eliza Young was also another of his wives who wasn't afraid to express how she felt. As a matter of fact, she was so unhappy about the relationship with Young, that she applied for a civil divorce on grounds of cruel treatment and neglect between other reasons.
Later on, she was excommunicated and wrote "Wife No. 19 or the story of the life in bondage, being a complete expose of Mormonism and revealing the sorrows, sacrifices and sufferings of women in polygamy", some refer to this book as probably one of the first anti-Mormon literature writings, because it denounces Mormonism as a false religion.
Ann was certainly not the only wife to ask him for a divorce. Mary Woodward who was married to him for quite a short period of time, also requested a divorce. The interesting thing is that Young never argued when they requested him such a thing, he would grant the divorce immediately and yet offer further assistance if they needed financial help (Even though they will no longer be considered his wives). Mary Ann Clark Powers, Mary Jane Bigelow, Mary Ann Turley, Elizabeth Fairchild and Eliza Babcock all requested a divorce from Brigham Young and a few of them re-married.
Yup, he wasn't Charles Ingalls and their wives weren't Caroline but yet again, this wasn't a TV show but a real life situation. These wives weren't the only ones complaining about Plural marriage, many early brethren talked about fights, gossiping, murmuring and jealousy. Brigham Young gave the following ultimatum to the sisters in the Church after being fed up with the complaining:
"Now for my proposition; it is more particularly for my sisters, as it is frequently happening that women say they are unhappy. Men will say, "My wife, though a most excellent woman, has not seen a happy day since I took my second wife;" "No, not a happy day for a year," says one; and another has not seen a happy day for five years. It is said that women are tied down and abused: that they are misused and have not the liberty they ought to have; that many of them are wading through a perfect flood of tears, because of the conduct of some men, together with their own folly.
I wish my own women to understand that what I am going to say is for them as well as others, and I want those who are here to tell their sisters, yes, all the women of this community, and then write it back to the States, and do as you please with it. I am going to give you from this time to the 6th day of October next, for reflection, that you may determine whether you wish to stay with your husbands or not, and then I am going to set every woman at liberty and say to them, now go your way, my women with the rest, go your way. And my wives have got to do one of two things; either round up their shoulders to endure the afflictions of this world, and live their religion or they may leave, for I will not have them about me. I will go into heaven alone, rather than have scratching and fighting around me. I will set all at liberty. "What, first wife too?" Yes, I will liberate you all.
I know what my women will say; they will say, "You can have as many women as you please, Brigham." But I want to go somewhere and do something to get rid of the whiners; I do not want them to receive a part of the truth and spurn the rest out of doors.
I wish my women, and brother Kimball's and brother Grant's to leave, and every woman in this Territory, or else say in their hearts that they will embrace the Gospel-the whole of it. Tell the Gentiles that I will free every woman in this Territory at our next Conference. "What, the first wife too?" Yes, there shall not be one held in bondage, all shall be set free. And then let the father be the head of the family, the master of his own household; and let him treat them as an angel would treat them; and let the wives and the children say amen to what he says, and be subject to his dictates, instead of their dictating the man, instead of their trying to govern him.
No doubt some are thinking, "I wish brother Brigham would say what would become of the children." I will tell you what my feelings are; I will let my wives take the children, and I have property enough to support them, and can educate them, and then give them a good fortune, and I can take a fresh start…
Sisters, I am not joking, I do not throw out my proposition to banter your feelings, to see whether you will leave your husbands, all or any of you. But I do know that there is no cessation to the everlasting whining of many of the women in this Territory; I am satisfied that this is the case. And if the women will turn from the commandments of God and continue to despise the order of heaven, I will pray that the curse of the Almighty may be close to their heels, and that it may be following them all the day long. And those that enter into it and are faithful, I will promise them that they shall be queens in heaven, and rulers to all eternity.
Prepare yourselves for two weeks from tomorrow; and I will tell you now, that if you will tarry with your husbands, after I have set you free, you must bow down to it, and submit yourselves to the celestial law. You may go where you please, after two weeks from tomorrow; but, remember, that I will not hear any more of this whining." (Journal of Discourses Vol. 5 pages 56-57)."
Men always complain about wives whining and fighting and they have only one"¦well, imagine that pressure times 55(Add to that the fact that you have to support them financially and otherwise) and whatever crazy idea you have of living this law here on Earth will seem like something you wish it never happen to you.
Well, I know for a fact that I wouldn't be able to handle polyandry, too much drama for a Cheeky Mormon. You see, when women perhaps fought in a polygamous marriage what they probably did?
Well, what women usually do: They shout, they call each other nasty names (You are fat as a balloon wife number 4! And you are as flat as an iron board wife number 5, ha!). If they go physical in an extreme situation probably there will be some hair pulling and the show is practically over but with men…
Now THAT'S a different story, first will be the competition. (My carriage has more horses than yours, husband number 3! And? Pfffff who cares? I have a stagecoach husband number 6!)
And of course, then will be the physical. There will be broken noses, broken legs, broken ribs, broken every -single -part-of -the- body! Did I say blood? Yup, blood. Let's face it, more blood men see.. manlier they seem to feel.
So excuse me if I am not interested folks, I don't wish that sort of melodrama in real life, there are enough Latin American soap operas and Jerry Springer TV shows.