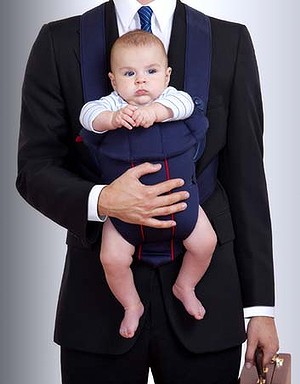 You drop your wife to Church for a Relief Society meeting. Your youngest child is at the backseat of your car crying her eyes out because she is hungry. You reach Church, your wife's meeting did not start yet so you take your baby out of the car and start feeding her. Suddenly, one of those inquisitive sisters from Relief Society comes around to say hi with a big smile on her face and asks you if you are "babysitting" for the day.
Sounds familiar? Did you notice that when a mother is holding her baby in arms nobody seems to comment about what she is doing? Or when she feeds or changes the baby? But when a father is doing exactly the same thing there is always someone around who asks or state: "Hey John, you are babysitting today huh?" "Hey John, it seems like you really know what you are doing!" "Hey, look at John babysitting!".
You feel to slap them across the face at that very moment, but you suddenly remember your Christian background and Jesus's words to his Apostles when he stated "for all they that take the sword shall perish with the sword"… Wait a minute, you don't have a sword! Well, ummm"¦you know it's a metaphor.
Anyhow, the inevitable question is: Since when a father babysits?
When I think about the world babysitting, I usually think of a part time job done by a teeny bopper who wishes to make a few bucks in the summer so she could buy the latest phone. It also comes to my mind perhaps a friend who you desperately call when there is an emergency or you need to run some errands. In other words, the latter is doing you a favor.
So why is it that sometimes men get undue adulation for spending time with their kids and taking care of them? I don't know if people can see how condescending and narrow minded is to indirectly hint that a man, a father isn't capable to do a good job at parenting just because he happens to be a man and because of that, he has the need of a "charitable cookie" thrown his way in the form of a praise.
Do fathers sometimes burn food when cooking? So do mothers.
Do fathers sometimes seem unable to calm down their crying infants? So do mothers.
Do fathers sometimes feel inadequate at parenting? So do mothers!
Folks, next time you see a brother in Church walking up and down with his toddler…When you see a father cleaning the mess of cheerios his baby left..When you see a brother taking his oldest child for a walk…
Remember, he is not babysitting, he is not being forced, he is just doing what he does best: He is being a father.