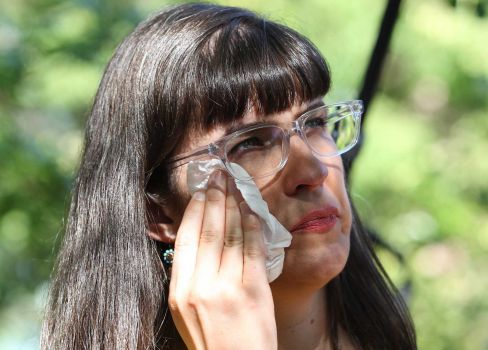 Today, is a very sad day. The founder of the Ordain Women group, Kate Kelly has been excommunicated.
As I read her statement asking people to stay in the Church, an overpowering feeling of sadness took over me as I pondered the despairing and terrifying consequences she will have to face along with her family.
She will not be allowed to wear her temple garments, contribute tithes and offerings, take the sacrament, have a calling, offer public prayers in behalf of the congregation, and vote in the sustaining of Church leaders, without even start mentioning the eternal consequences that come along with excommunication. It is the severest form of discipline in the LDS Church.
When I read the news, I quickly went online to see what people are saying about it and it saddened me to read that the most disparaging, judgmental and insensitive comments were coming from people who claim to be LDS. It's like a phenomenon: A member gets excommunicated for something we think they did wrong and instead to feel sorrow that one of our brothers or sisters in our Church is no longer part of our congregation, we seem to have the need to crash them like a swarm of ants even though they're already down.
Regardless of how you feel about her cause, where is the hand that lifts? Where is the "Mourn with those who mourn"? There is nothing to celebrate here. The excommunication of ANY member of the Church isn't something to feel good about, no matter who they are or what they have done. There is really no need to show our sanctimoniousness, superiority complex that says""I would NEVER do this. "I would NEVER do that". Yeah, we know you would NEVER…. Do  you want a cookie for that?
But what to do when you feel so passionate about a cause and you want to desperately be heard and feel validated? What about when others feel the same way about your cause?
Sometimes, it feels like we are in one of those Latin-American nations back in the 1970's where citizens were subjected to many restrictions, including countless human rights violations. A curfew, restricted conversations, no political affiliations against the government was allowed, and government critics were sent to prison for many years (The lucky ones), the unlucky ones were tortured and then put to death.
We don't have prisons in the Church but we have excommunication and of course, depending on the severity of the offense, I would say it is necessary. We have excommunication for the man or woman who rapes, we have excommunication for the pedophile who has been abusing children for years, for the serial killer who was caught with several dismembered bodies inside his fridge oh"and we also have excommunication for those whose opinions are different and dare to share their views.
What to do when you are in Kate Kelly's shoes? Do you give up your cause in order to maintain the status quo? Or do you continue pressing on? One thing is for sure: Ordain Women was just made stronger by her excommunication and the organization and the people involved aren't going anywhere.
Is it really against Church doctrine to seek female ordination? Is it against Church doctrine to want to meet with the Church and talk about it? Is it against Church doctrine to seek equality in the Church? A whole bunch of men say there is equality, yeah I know, the irony.
Do you take the blue or the red pill? Do you embrace the painful truth of reality (Red) or just forget all about it and live in ignorance and illusion (Blue)?
Kate chose the red pill. I don't blame her. I would have probably done the same thing.