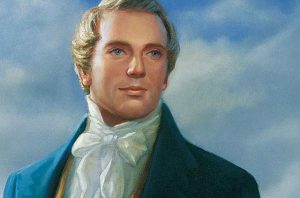 Yesterday was his birthday. I dreamed with him once many years ago. I was a 12 year old child dressed as a pioneer riding a carriage with no other than the Prophet Joseph Smith next to me. In my dream, I knew I did not belong to that particular moment of time and I did not know why I was back in the 1800.I kept looking at my clothes over and over and over in complete shock.
Joseph, who was driving our carriage had the most absolutely stunning and contagious smile I've ever seen. He looked like someone who was so happy and cheerful and fun to be around. I know we were talking at first but I cannot remember what we were saying to each other.
Suddenly, I saw a wagon approaching ours with a bunch of loud men who were laughing hysterically. When they were really close by, they sort of cross our way and stopped us from continue riding ours. From their wagon, they started making fun of the Prophet, bullying him and calling him all sort of ugly names while Joseph who changed his happy countenance to a serious and very sad one, did not utter a word. He just took it all without complaining or fighting or saying anything. I felt both helpless and brokenhearted seeing him going through this.
The men left and Joseph continued riding our carriage, happy as always. I looked at him and I knew immediately that I wanted to tell him how I felt about what just happened. The only words I was able to speak because I was overpowered with emotion was: "I just wanted to say thank you for all the sacrifices you have done for our Church".
He looked at me, smiled back and said: "I love the Lord". Then sort of laughing at me, jokingly ended my dream by saying: "And what are you doing dressed as a pioneer, anyways?". We both laughed. I realized in my dream that he knew all along who I was and that I did not belong to his time.
As I type this, and even though many years have gone by since that dream, I am visibly emotional and overpowered by that same exact feeling. I know it is just a dream for a lot of people but for me, it was more than that. It was my only chance to "Talk" And thank the Prophet "Face to face" For what he has done for our Church. I also know, just like the rest of my loved ones who are not longer here, I will see him again one day. Will he remember that little girl dressed in pioneer clothes?
Something tells me he will.